Sixty miles west of Ingram, Seth and Jasmin Stidham are putting their own stamp on hill country style. The couple moved from Georgetown to Johnson City ten years ago and started their leather goods business, Stidham Outfitters & Custom Leather, in 2014. Today, the brand has grown into a well-recognized brick-and-mortar destination with both men's and women's clothing, homewares, Western antiques, and unique hand-tooled leather goods. While Seth operates the leather production, Jasmin sources the antiques and manages the brand's social media marketing. Johnson City native Brittni Young, who came on as a buyer and a business partner in 2019, is responsible for buying the women's clothing and home goods.
Like Orms, the Stidham's clientele is wide-ranging. "It's typical hill country," said Seth, who is a fourth-generation maker and shop owner. "You might have a limo pull up with ladies going to a winery but five minutes later you have a guy with a cattle trailer walk in – it's a neat mix." That mix includes everyone from foreign dignitaries to politicians, rodeo cowboys, and musicians like Ronnie Dunn of Brooks & Dunn. Last year, Texas Governor Greg Abbott's office reached out to Seth prior to his meeting with the Prime Minister of Japan. Knowing of the Prime Minister's love of archery, Abbott solicited Seth to make him a custom leather quiver for his arrows.
Seth' custom work – be it leather belts, briefcases, wallets or saddles – makes up 75% of his business. His specialty is the Sheridan style, a renowned carving tradition originating in Wyoming featuring swirls and floral motifs.
Growing up in Georgetown, Seth was raised with an appreciation for artistry, and he was gifted his first set of carving tools as a young boy. "My grandma was an artist, she painted and my mom painted," he said. "I've always been drawn to handmade stuff, painting, silver, woodwork…" Later, Seth worked for Wildfire Saddlery in Salado and apprenticed with his friend and fellow leather carver, Wayne Decker of Bar U Custom Leather. "He took me under his wing and would teach me the correct way on everything," he said. "He really upped my game."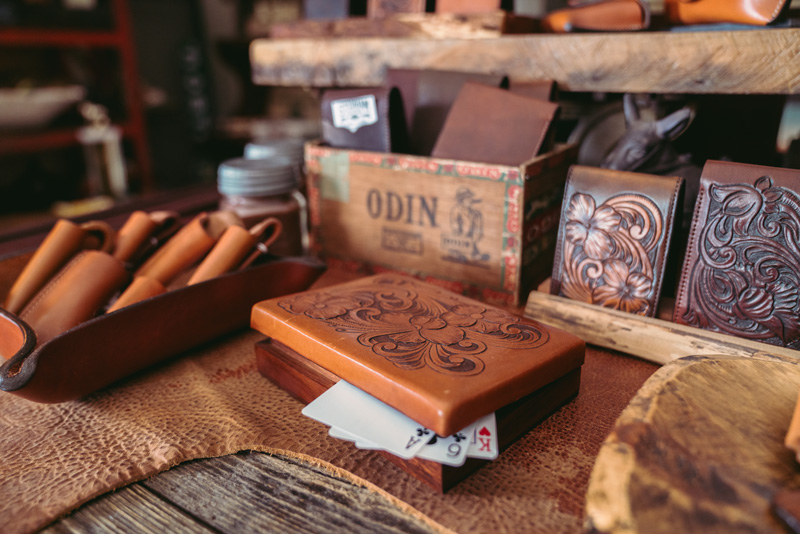 Today, people visiting Stidham Outfitters & Custom Leather can glimpse inside Seth's workshop and witness an age-old artistry firsthand. "I hand draw everything. Every piece is totally unique," he said. "You're not going to have the same piece as anyone else." He uses saddle skirting leather from Hermann Oak Leather Co. out of St. Louis, which holds its shape and lasts longer than thinner leather varietals.
"I don't skimp on material – I use the highest grade you can buy," he shared. "If you're going to put that much time into a piece you want it and the impressions you make – the tooling – to last as long as possible." Seth's commitment to his craft and his dedication to timelessness and tradition mirrors that of Orms'. "I take pride in what I do. I don't want to be stale," he said. "I want to be the best I can be."